An interactive exhibition at the Boston Children's Museum encouraging children to reimagine how they view sneakers and art.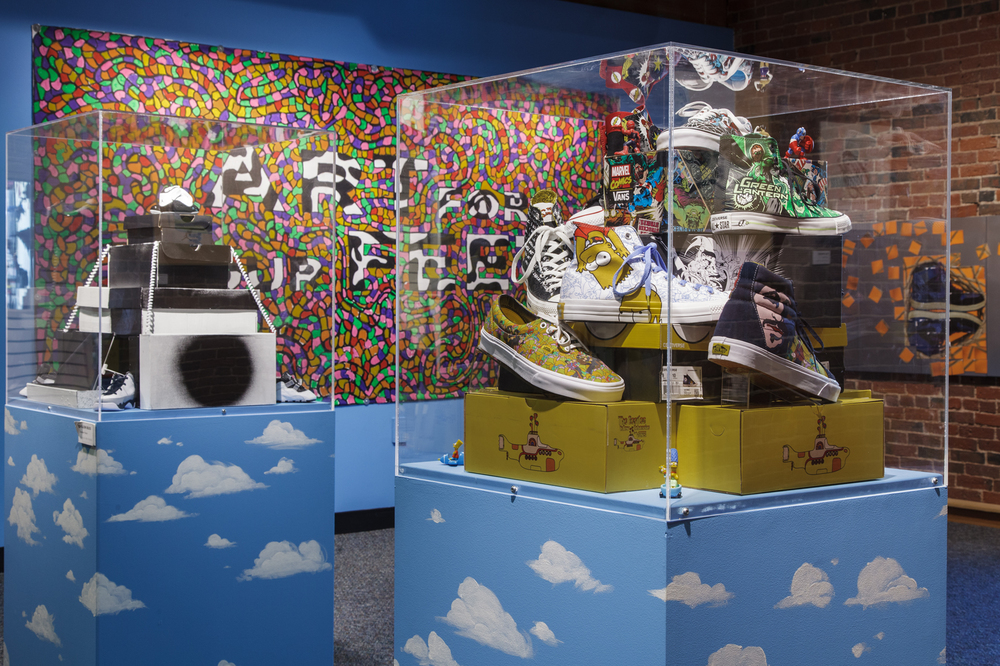 The intention of the Art for your Feet exhibition is to revision the role of sneakers from utilitarian object to art itself. The hope is that through interaction and discovery children will be inspired to dress themselves up in art and reconsider the limitless possibilities of everyday items!
The exhibition showcases an array of sneakers, selected from the Sneaker Museum Vault, including Converse, Air Jordan, Adidas, and Puma, and New Balance. As well as baby kicks, cartoon and comic sneakers and chrome textured sneakers as "flying" devices.
Inspired by the prompt, 12 local artists created sculptures, paintings, basketball hoops, short videos, and installations especially for the exhibitions.
"Art can be made and inspired by what we wear, what we sit on, what we play with, what we eat! There is no limit to what inspires creativity!"
ALICE VOGLER
Special Thanks to our Artists
Gallery

Mitch Weiss- Jordan Classique photograph

Jordan Piantedosi– Ghost Tour of the Shoe Store - Painting of cartoon characters having a dance party

Golden Sweet– Seair Battle @ Cloud Buster - Painting on hallow door of vampires and other creatures playing basketball in the forest among the trees

Bill Maass– Lace Face – Mixed media portrait made using a shoelace

John Cowley- Ultimate Gooooooaaaaaallllllll!! Sneakers, PVC pipe, newspaper and duct tape

Alex Sewall– Sneakers of the Future, from the 90s – Oil on canvas painting

Jana Renee– Adventures with Jane – Acrylic and oil on canvas painting
Installation

Ernest English– Continuous Life of Life Series - Interactive + collaborative mural

Dillon Buss– Sneaker Vision – Video art installation

Zach Lanoue- Photo magnet puzzle

Maria Molteni- Hand knit basketball net made out of shoe laces by New Craft Artists in Action

Julianne Merino– Watercolor monotype printed universe to serve as background of sneaker flying machines
About Boston Children's Museum

Boston Children's Museum engages children and families in joyful discovery experiences that instill an appreciation of our world, develop foundational skills, and spark a lifelong love of learning. www.BostonChildrensMuseum.org.
Creative Director & Curator: Olivia Ives-Flores / Collections : Sneaker Museum